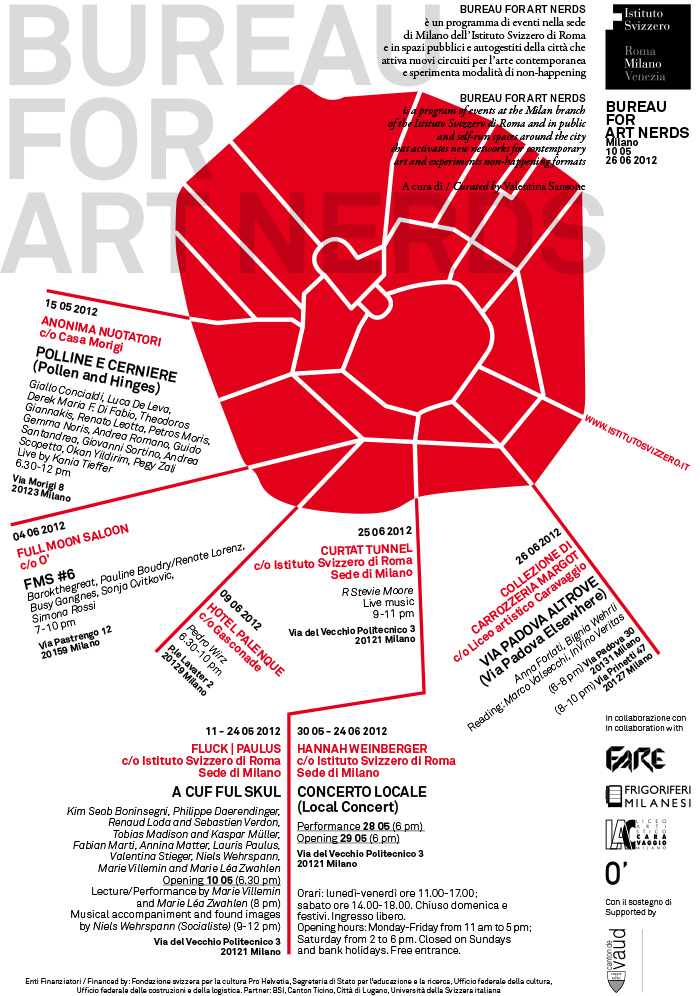 Bureau for Art Nerds is a cycle of events, curated by Valentina Sansone, that takes place at the Milan branch of the Istituto Svizzero and in public and self-run spaces around the city from 10 May through to 26 June: conceived as a laboratory for experimentation and exchange, the Bureau presents two temporary programs and five events to activate new circuits for contemporary art and to experiment non-happening formats.
The first appointment to open the program on 10 May 2012 (6.30 p.m.) at the Istituto Svizzero is the exhibition A CUF FUL SKUL presented by the collective Fluck | Paulus (Fribourg); on the occasion of the opening there will be a performance by Marie Villemin and Marie Léa Zwalen (8.00 pm) and a DJ set of Niels Wehrspann (Socialiste) (9.00 pm – midnight).
The Istituto invited the founders of some of the most active self-run projects in Switzerland – Fluck | Paulus (Fribourg), Curtat Tunnel (Lausanne), Hannah Weinberger (Basel/Zurich), Hotel Palenque (Lausanne/London) – to curate the program of an event for the Bureau at its Milan branch or in external locations in collaboration with self-run realities in the city that have formed recently such as Anonima Nuotatori, Full Moon Saloon by Dafne Boggeri, Carrozzeria Margot.
For a month and a half or so Bureau for Art Nerds animates the city with seven appointments to be held in various locations between the Istituto Svizzero, Casa Morigi (self-run since 1976), the non-profit spaces O' and Gasconade and the Liceo artistico Caravaggio in the Via Padova area thus creating a bridge between the institution and the various public and independent realities in Milan.
Bureau for Art Nerds emphasizes the unique and temporary character of a widespread modality of "actions" that distinguish themselves for their strong spirit of aggregation, refuse a precise definition and unite various types of events at the same time. Following a practice that is becoming more and more frequent amongst younger artists and curators, the organization of one-night events characterized by experimental content, despite a limited budget, is at the base of the program of most of the self-run spaces in Switzerland and on the international independent scene. These "actions" involve on many levels a substantial part of the local art community, that gravitates around the activities of the self-run group and its network.
Fluck | Paulus was founded in 2010 by Léa Fluck and Lauris Paulus in their hometown, Fribourg. Exhibitions, publications and artists' editions is what they do. Private initiative, spontaneous and dilettante. www.fluck-paulus.ch
Anonima Nuotatori originates from the desire to invent a new format, a story that has never been told. The founders of the duo are an artist (Giallo Concialdi) and a curator (Guido Santandrea), but they are only the spark of the tinderbox that hides behind these words. Have fun.
anonimanuotatori.tumblr.com
Hannah Weinberger (1988, Filderstadt, Germany) lives and works in Basel and Zurich. She graduated in Media Arts in 2010 at Zurich University of the Arts (ZHdK) and is studying to obtain an MFA at the same institute. She is one of the founding members of the project space Elaine Mgk (together with Tenzing Barshee, Nikola Dietrich and Scott Cameron Weaver).
Full Moon Saloon is a 13-episode cycle on visions, music, dance and independent publishing during the full moon nights over the year. FMS is an interdisciplinary project by artist Dafne Boggeri. www.on-o.org
Hotel Palenque is a continuous and nomadic programme of newly commissioned contemporary art projects focusing on producing and presenting new works by emerging artists on a single A0 non-reproducible print. HP started in June 2011 and is a project by Elise Lammer. www.hotelpalenque.org
Curtat Tunnel is Maud Constantin, Philippe Daerendinger, Jean-Christophe Huguenin and Tatiana Rihs. They curate exhibitions, lectures, music performances in their Lausanne space and abroad.
www.curtattunnel.com
Inaugurated in July 2010, Carrozzeria Margot originates as a polyfunctional space, living area and work place. Now it has abandoned the space in which it was founded and it continues to function without a base but in a pluricentric format as a virtual place for reflection and invention. Carrozzeria Margot is a contemporary art production house and acts as an association of artists and other professionals in the field of contemporary art.
Fluck | Paulus – A CUP FUL SKUL
Anonima Nuotatori – POLLINE E CERNIERE
Hannah Weiberger – CONCERTO LOCALE
Full Moon Saloon – FMS#6 SETOSO
Hotel Palenque – Pedro Wirz
Curtat Tunnel – R. Stevie Moore
Collezione di Carrozzeria Margot – Via Padova altrove